Our core competency is being client-focused at providing a complete spectrum of strategy and implementation services across the major property types.  We have been in your shoes numerous times. We understand the pains and joys of going from a concept to a realized project.
For a good portion of our clients, real estate is not their core business. As a result, our services allow them to focus on their core business while we provide all encompassing outsourced real estate services e.g. visioning, project conceptualization, engage consultants, financing, construction, and transitioning to operations.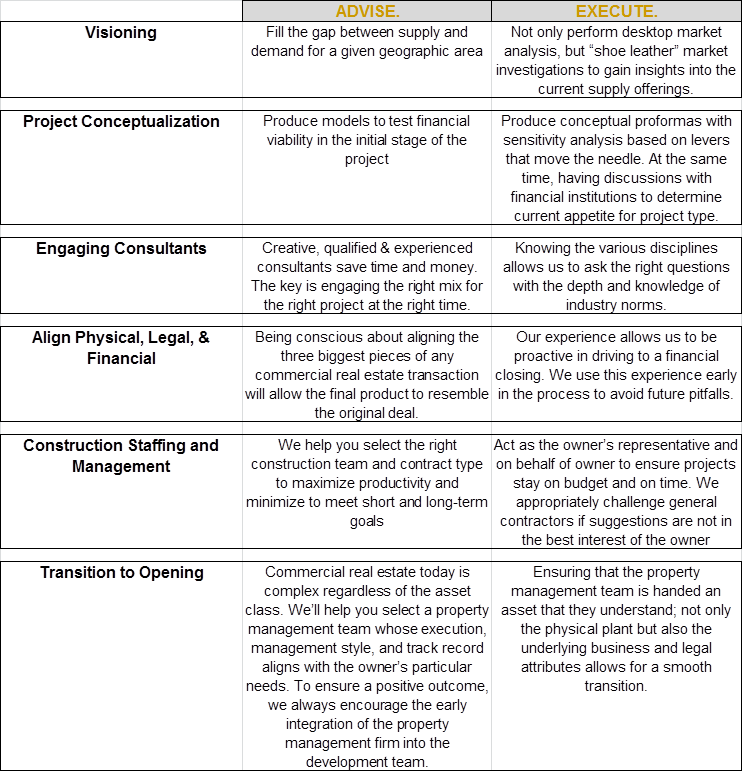 Our Clients . . .
A diverse set of clients is represented by the following.
Atlanta Neighborhood Development Partnership, Inc
The mission of ANDP is to promote, create and preserve mixed income communities through direct development, lending, policy research and advocacy that result in the equitable distribution of affordable housing throughout the metropolitan Atlanta region.
The Benoit Group
The Benoit Group's real estate development and advisory capabilities leverage over 100 years of collective experience, on over $2 billion of real estate projects. TBG has demonstrated proficiency in commercial development, project management, and innovative design concepts; allowing them to set the standard in our industry.
Bridge Management
is a real estate Investment Portfolio Manager and Organizational Consulting firm. Over the last 12 years, Bridge has achieved a track record of successful performance in Investment Portfolio Management, Organizational Consulting and Real Estate Advisory.
Brock Built
Steve Brock, founder and CEO of Brock Built, brings over 25 years of homebuilding experience to the marketplace. His homes are built with superior craftsmanship at exceptional values. To date, Steve has built over 1000 homes and has literally altered the landscape of Atlanta's West Side. He has created innovative places to live close to the city with beautiful homes, tree lined streets, neighborhood parks, sidewalks and relaxing green spaces.
Columbia Ventures
Columbia Ventures LLC formed in 2013 to focus on residentially anchored mixed-use development in urban locations in the southeastern United States. Columbia seeks opportunities to provide creative business, financial and operating solutions, fueled by innovation, to outperform the market, provide superior risk-adjusted returns to our co-investors and transformational developments to the communities in which we operate.
Contente Consulting
Contente Consulting, Inc. is an Urban Planning and Strategic Consulting firm specializing in neighborhood revitalization planning. They offer a broad range of strategic, land use, master planning and institutional planning services for public, private and not for profit clients.
Families First
For the last 125 years, Families First has been providing empowering solutions for Atlanta's most vulnerable population by connecting, strengthening and sustaining families. In 2014, Families First served more than 37,000 children, women and families during life's toughest storms.
H.J. Russell & Company
H.J. Russell & Company, founded over 60 years ago, is a vertically integrated service provider specializing in development, construction, program management, and property management.
Halter Companies
Building on more than three decades of strength and experience, The Halter Companies are a family of diversified companies that collectively design, develop, and invest in real estate throughout the Southeastern United States.
The Macallan Group
The Macallan Group is a portfolio of construction and real estate companies that offer our clients a wide array of services customized to meet their individual needs. Founded in 2002 as a residential construction firm with a "commercial approach", Macallan has since expanded its services to include commercial general contracting and professional services such as brokerage, asset management, and consulting.
Mercy Housing Southeast
Mercy Housing Southeast provides homes for more than 8,000 people – seniors, families and people with special needs – who make an average annual income of about $19,465. Mercy Housing Southeast has developed more than 3,900 quality, affordable homes in communities in Georgia, Ohio, North Carolina and South Carolina.

MetroCenter Associates
MetroCenter Associates, Inc. provides tactical real estate planning and development consulting services, targeted to promote high quality urban environments which incorporate both long term economic and environmental sustainability.
The Quadrillion
The Quadrillion is a full service management firm specializing in training, marketing, and image development. In the dynamic environment, our mission is to help our clients offer a quality product or service at a fair price, promote the product so as to create demand, and most importantly, select, orient, train and develop the personnel to achieve their greatest potential.
TriBridge Residential
TriBridge Residential is a full service real estate company specializing in the investment, management and development of multifamily communities. We have become a leading multifamily company in the South by building on our market presence, knowledge, high standards and entrepreneurial spirit which creates intelligent, creative solutions to complex real estate opportunities. We hold true to our experience and our vision to be the best by delivering on our promises for investors and clients.
Woodline Solutions
Woodline Solutions is a private company providing Program Management, Construction Management and Development services to clients. Based in Atlanta, Georgia, Woodline prides itself in assisting clients to implement the most aggressive urban redevelopment projects to planned campus growth projects.
Alrich Lynch has worked with Bridge Management in a variety of roles over the past five years. In each case, he consistently demonstrates his expertise and in-depth knowledge of real estate development and construction management in a timely and effective way, particularly in light of the complexities of the recent market. Alrich is incredibly resourceful and has cultivated meaningful relationships within the public and private sector of the real estate industry. He has valuable technical skills as well as a hands-on approach toward evaluating issues, solving problems and executing solutions, which makes him a valuable member of our real estate management consulting team.
I have known Alrich for many years since we worked together at Trammell Crow Residential. Alrich started LDG after leaving Trammell Crow Residential and we have had the opportunity to continue our relationship as friends and potential partners. Alrich is knowledgeable, thorough and most importantly works with the highest ethics. I look forward to continuing our relationship and finding ways we can collaborate on new developments.
Alrich is a dedicated and knowledgeable real estate development professional that has provided invaluable guidance and recommendations to my City of Atlanta planning initiatives for challenged communities in need of revitalization. His responsiveness and ability to take dreams and bring them to reality from a developer's perspective, while in layman's terms, is a service that I will continue to utilize in future collaborations and in my urban planning courses.